The opioid epidemic is one of the most dangerous health emergencies in the history of the United States. And it's affecting all of us—at home and in the workplace.
| | | |
| --- | --- | --- |
|  130 Americans |  1 in 4 |  71% |
| die every day from opioid overdose on average.1 | Massachusetts residents know someone who has died from an opioid overdose. | of Massachusetts residents rated it the most serious problem facing Massachusetts today.2 |
  130 Americans
die every day from opioid overdose on average.1

  1 in 4
Massachusetts residents know someone who has died from an opioid overdose.

  71%
of Massachusetts residents rated it the most serious problem facing Massachusetts today.2
We need your help in this fight. As opioids continue to hurt our communities, friends, and families, we all must play a part. Use the information and resources on this site to guide you and your workforce.
Visit Our Opioid Resource Center
Go to bluecrossma.com/opioid to learn more about important support contacts, family support resources, and planning for care.
What are opioids?
Opioids are a class of medication that includes the illegal drug heroin, legal synthetic opioids such as fentanyl, and pain relievers such as OxyContin, Vicodin, codeine and morphine.
When used properly under a doctor's direction, opioids are a highly effective option for pain management. However, even taking prescription opioids increases the risk of addiction.
The Effects of Opioids1
As the opioid epidemic goes on, drug overdose deaths are becoming more common in the United States.
From 1999 to 2017, more than 700,000 people died from a drug overdose.
There were 6x more overdose deaths in 2017 than in 1999.
Around 68 percent of drug overdose deaths in 2017 involved an opioid.
1. Centers for Disease Control and Prevention. "Understanding the Epidemic," December 19, 2018.
The Crisis is Everywhere
46 percent of Americans have a family member or friend who is or has been dealing with substance use disorder,1and 70% of people who suffer from the disorder in the United States hold jobs.2 It's likely that the opioid crisis is directly affecting your workforce.
Increased Costs. Lost Productivity
The opioid epidemic's impact on businesses and the state's economy is severe. A study by the Massachusetts Taxpayers Foundation reported massive costs related to opioid usage:3
$2.1 Billion–Estimated excess health care costs related to opioid usage
$2.7 Billion–Estimated cost of lost productivity from opioid-related absenteeism and presenteeism
1.Pew Research Center. "Nearly half of Americans have a family member or close friend who's been addicted to drugs." October 26, 2017.
2.Addiction Center. "Alcohol and Drugs in the Workplace," https://www.addictioncenter.com/addiction/workplace/.
3.Massachusetts Taxpayers Foundation. "The Massachusetts Opioid Epidemic," November 2018.
Despite how widespread the crisis has become, the stigma around substance use disorder remains. Stigma can cause shame and guilt, making those in need less likely to seek treatment and more likely to harm themselves. Dispelling this stigma is a critical part of putting an end to the epidemic.
How to Fight the Stigma
75 percent of adults ages 16 to 64 with substance use disorders are in the workforce1.The workplace is a key setting to reach those in need. Here's how you can fight back:
Increase awareness and understanding of opioid addiction
Build a supportive culture that offers compassionate, nonjudgmental support
Open a dialogue where people can share their stories and issues
Key Components of a Supportive Culture
1. A Drug-Free Workplace. You should always comply with federal, state, and local requirements for a drug-free workplace. But going beyond the requirements, and instituting a drug-free workplace policy and program that addresses the specific needs of your workforce, can help create a safe, healthy environment.
2. Empowered, Educated Managers. Encourage managers and supervisors to help their coworkers by providing education and training on opioid misuse. They can work to create a stigma-free environment where employees feel supported and able to get help.
3. Employee Tools and Resources. It's important to provide all members of your workforce with access to tools and resources to fight opioid misuse. Consider offering an Employee Assistance Program, to help those with issues that may affect their job performance.
1. Safety and Health Magazine. "Opioids and the workforce," September 24, 2017.
Opioid overdoses can occur anywhere, even the workplace. It's critical to be able to take action in the event of an emergency. You could save a life.
Know the Signs of an Overdose1
Small, constricted pupils
Loss of consciousness
Lack of responsiveness to loud sounds or physical stimuli
Slow, shallow, or irregular breathing
Choking or gurgling sounds
Changes to skin color around eyelids, nail beds, and lips
If you're witnessing an overdose, call 911 as soon as possible. Do not leave the person alone.
Using Narcan®´
Naloxone, available under the brand name Narcan, reverses the effects of opioids and even overdose, by blocking the recipient's opioid receptors. It can wake a person who is overdosing in 3–5 minutes and lasts for 30–90 minutes. It has no adverse reactions and no potential for abuse.
Massachusetts law mandates that all pharmacies have a standing order to dispense Narcan to people in need. This means you don't need an order from your doctor to get Narcan. Consider offering your employees access to Narcan training, so they know what to do in an emergency.
1. Centers for Disease Control and Prevention. "Overdose Prevention," August 31, 2017.
Let's Get the Discussion Started
The first step in fighting the crisis is speaking openly about it. We're here to help. Use these resources to start a free and open dialogue in the workplace.
How to Conduct a Year-Long Opioid Awareness Campaign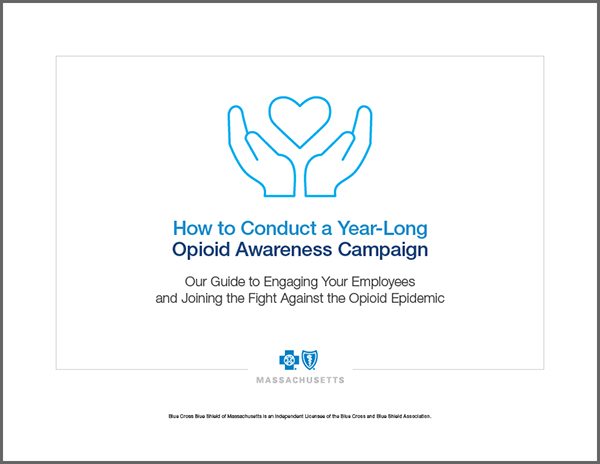 View PDF