Consumer-directed health plans combine high-deductible medical insurance with financial accounts designed to encourage responsible health care purchasing by your employees. This approach gives you a powerful and sustainable solution to rising costs.
Employees enrolled in consumer-directed health plans are more likely to participate in wellness programs and to research health information, which may result in a healthier workforce for your company. Over the long term, that can translate into lower health care costs for you and employees. With more than 70 years of experience providing health care coverage, Blue Cross Blue Shield of Massachusetts provides the knowledge, broad product selection, and support to ensure that your consumer-directed health plan solution is successful.
Health Savings Account (HSA)
Health Reimbursement Arrangement (HRA)
Flexible Spending Account (FSA)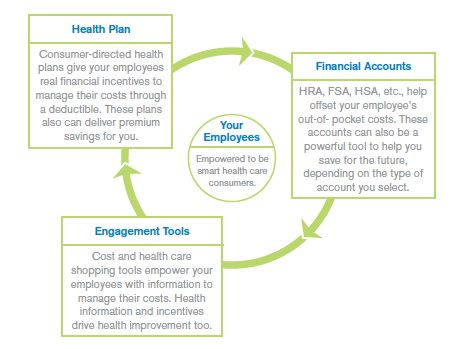 Benefits For Your Business and Your Employees
Offers lower premiums
Employees are empowered to make smarter health decisions with proactive health management tools, which may result in a healthier workforce
Financial accounts offer tax savings
Contributions to FSAs and HSAs are pre-tax for employees and generally not subject to employment taxes for FICA for employers
Disbursements from HRAs are tax-free for employees and are deductible for employers as a business expense
HSA deposits are tax-free
Members have a tangible incentive to get and stay healthy
Members gain greater control over their out-of-pocket costs
Low-cost access to preventive care can help prevent the development of serious conditions
We offer a wide range deductible-based health plans, including plans that are Health Savings Account-compliant, so you can choose the one that's right for your company. All of our health plans include the necessary preventive care, such as annual physicals and associated tests, to keep your employees healthy and productive. With so many options, you're sure to find a plan that meets your needs. Options for plan features include:
Traditional and open-access Health Maintenance Organizations, or Preferred Provider Organization plans
Massachusetts, New England, or national networks
A range of price points and benefit levels
Different levels of pharmacy benefits
Download our financial account and medical plan pairing guidelines.
Want to get a quote?
Contact your broker or call our sales team at 1-800-422-3545.
Employer groups of fewer than 10 employees can request a quote online.
Financial Accounts are a core piece of account-based health plans. These accounts financially engage employees as they make decisions about their health care and how to spend their health care dollars. Employees can use their financial accounts to offset costs and plan for future health care needs.
Health Savings Accounts (HSAs)
Similar to a 401k, an HSA can be funded by both employer and employee. Employees own the accounts and funds can be saved and invested for future years.
Federal rules restrict plan design options.
Health Reimbursement Arrangements (HRAs)
Funds are owned by and contributed by the employer. The employer sets rollover and usage guidelines. Employers also have cash flow flexibility when funding the accounts.
Flexible plan design options.
To help make your medical plan most effective, we limit the amount you can contribute to the financial account to 50 percent of the deductible or less.
Flexible Spending Accounts (FSAs)
Can be funded by the employer and/or employee and offer employees a pre-tax benefit for health care, related transportation, or dependent care expenses. Funds must be used by year-end and employees can't take funds with them when they leave the company.
Can be combined with an HRA and, in limited cases, with an HSA.
Can be offered with any plan design, including non-deductible plans.
What type of financial account is right for your organization?
Download a list of our financial account options.
Flexibility in Account Administration
We partner with the most well respected and recognized account administrators in the industry. Through these partnerships, we exchange eligibility, incentive, and claims information to simplify the management of accounts. Whether you're looking for a fully integrated solution, or want to keep your current administrator, you have the flexibility to choose the right solution to meet your business needs.
Account Administrator Information
Overview of Strategic Partners - Gives an overview of our full suite of vendors.
Want to get a quote?
Contact your broker or call our sales team at 1-800-422-3545.
Employer groups of fewer than 10 employees can request a quote online.